NewcastleGateshead
NewcastleGateshead is a collaged map complied from regional namesakes taken from city maps worldwide. Place names from a number of countries including Australia, Canada, Jamaica and Ireland are juxtaposed to create an alternative map of North East England.
30,000 copies of the double sided, folded print version of NewcastleGateshead were distributed free across the UK to coincide with NewcastleGateshead Festival of the Visual Arts 2006.
Additionally the collage was reproduced as a limited edition digital pigment print using archival inks on Somerset Enhanced Velvet paper (255gsm) Signed edition of 35.
Commissioned by Locus+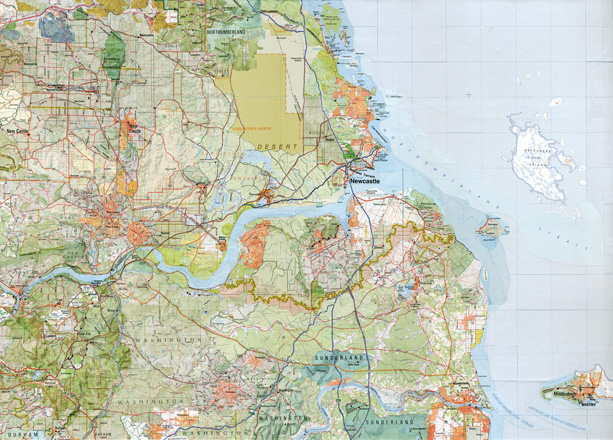 NewcastleGateshead, 2005
Collaged road and topographical maps, collage in two parts, 50cms x 70cms each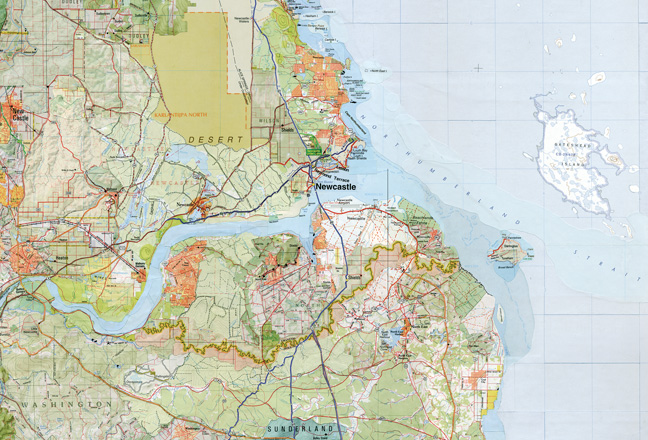 NewcastleGateshead, 2005
Digital pigment print using archival inks on Somerset Enhanced Velvet paper (255gsm), 60cms x 79cms