Group Exhibitions
Passionate Collectors
Public and Private
The New Art Gallery Walsall, Walsall, UK
16 September 2006 - 28 January 2007
Curated by Deborah Robinson
The New Art Gallery Walsall purchased 22 contemporary artworks through the Contemporary Art Society's Special Collections Scheme including works by Martin Creed, Layla Curtis, Rose Finn-Kelcey, Laura Ford, Hew Locke, Mike Nelson, Nina Saunders, Yoshihiro Suda, Gavin Turk, Richard Woods and Toby Ziegler.
The national initiative which enabled fifteen galleries throughout England to build up collections of contemporary work was celebrated at The New Art Gallery Walsall with the launch of the exhibition Passionate Collectors: Public and Private.
A supporting publication New Art on View, co-published by The New Art Gallery Walsall examined the role of museums in collecting contemporary art and featured contributions from Sheila MacGregor, Sir Nicholas Serota and the gallery's Director Stephen Snoddy.
Artists: Jordan Baseman, Monica Bonvicini, Patty Carroll, May Cornet, Martin Creed, Dorothy Cross, Layla Curtis, Robert Dawson, Ming de Nasty, Rita Donagh, Richard Forster, John Fullwood, Anya Gallaccio, Mona Hatoum, Geoffery Ireland, Rob Kesseler, Jochen Klein, Hew Locke, Christian Marclay, Hannah Maybank, Paul McCarthy, Heather and Ivan Morrison, Cornelia parker, Paula Rego, Jane Simpson, Yoshihiro Suda, Gavin Turk, Julian Walker, Mo Wilson.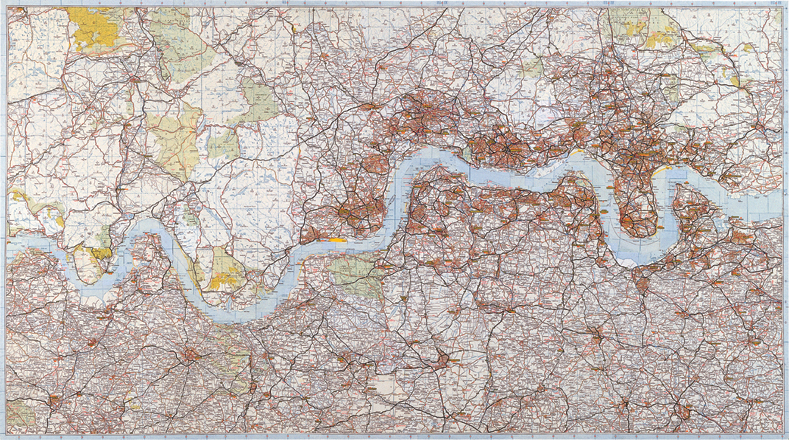 The Thames (North, South Divide), collaged British road maps, 2000